Consort Canzona Presents "A Handful of Handel" Twice
December 1, 2018 @ 7:00 pm

-

9:00 pm

|

Free
Consort Canzona Presents "A Handful of Handel" Twice


Saturday, Dec. 1 @ 7pm
Shepard of the Sierra Luthern Church
Sunday, Dec. 2 @ 4pm

Shepard of the Sierra Luthern Church
FREE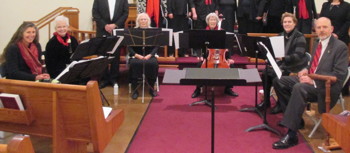 Consort Canzona, under the direction of Gary Schwartz, presents a pair of concerts, "A Handful of Handel," on Saturday, Dec. 1, and Sunday, Dec. 2, at Shepherd of the Sierra Lutheran Church in Carson City (near Best Buy, south of Topsy Lane). The Saturday concert is at 7:00 p.m. and the Sunday concert is at 4:00 p.m. Admission to both concerts is free.
The public is reassured that the Handel works are NOT from "Messiah." Other composers on the program are Claude Gervaise, Michael Praetorius, Pierre-Francisque Caroubel, and Giovanni Pierluigi da Palestrina.
Consort Canzona is a performing group of the Carson City Symphony Association. The concert is supported in part by public funds through a grant from the Nevada Arts Council and the National Endowment for the Arts, and by private donations.
Photo: Instrumentalists from Consort Canzona