Rimsky-Korsakov String Quartet performs at St Peters Episcopal Church
March 17 @ 4:00 pm

-

6:00 pm

|

TBD
The Russians are Coming!

The Rimsky-Korsakov String Quartet
Perform at St. Peters Episcopal Church
March  17 @ 4pm

Cost TBD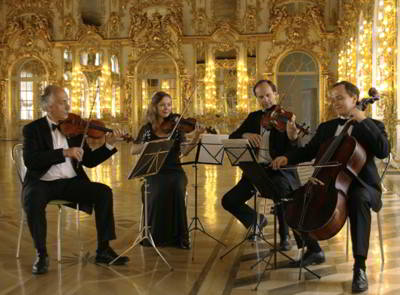 The Carson City Symphony Association is working on a special project in March involving some very fine Russian performers, the Rimsky-Korsakov String Quartet from St. Petersburg, Russia.
The Rimsky-Korsakov String Quartet, formed in 1939, is a monument of Russian musical history. Composed of four graduates from the prestigious St. Petersburg Conservatory, they regularly perform in the most reputable festivals in Russia, Germany, France, Italy, Malta, England, Switzerland and Finland. Their varied repertoire, ranging from Russian music of the 19th and early 20th centuries to contemporary composers, is enthusiastically enjoyed by a wide range of audiences.
The quartet will be involved in the following:
Friday, March 15, 7:00 p.m. – House recital "Russian Music and Cultural Traditions"

Sunday, March 17, 4:00 p.m. – Concert at St. Peters Episcopal Church

Date & time to be determined – Workshop/Master Class for Strings
Please check back for further details.