FOCUS ON CARSON CONTEST WINNERS
HONORABLE MENTIONS
Deana Hoover
"JadaLynn"
Honorable Mention
Daniel Fazzari
"Sierra Sunset"
Honorable Mention
Fred Howland
"Fence on Nevada Street"
Honorable Mention
Maurice White
"Rainbow over The Nevada State Prison Museum"
Honorable Mention
MORE PHOTOS ELIGIBLE FOR THE BANNER:  
Barry Kyle 
"Ranch at 5th and Saliman"
James Bagwell
"Lompa Ranch Cowboy"
Rebecca LaBranch
"Along Carson River"
Anke Simpson
"Firkin & Fox"
Bob Hickox
"Train coming down the tracks"
Dana Lee Fruend
"The Naughty Tea Mistresses of Nevada, First Calvary Company D, and The Nevada Civil War Volunteers on the steps of The Capitol"
Ronni Hannaman
Wabuska Station at the Railroad Museum"
Brett Fisher
"Field of Pinwheels for Child Abuse Prevention Month"
Kelli Nevills
"Carson River"
Lisa Fisher
"Great Horned Owl at Silver Saddle Ranch"
Harry Meyer
"Ormsby Street"
Jessi Marie Schumann
"Times Change"
Marylou Schindler
"Carson Street Revitalization"
Mile High Summer Jazz Camp in Carson City


June 7-13, 2017

Contacts:
Nick Jacques 775-283-2867 njacques@carson.k12.nv.us,
Elinor Bugli 775-883-4154 ehbugli@aol.com

Mile High Jazz Band Association, in cooperation with Carson Middle School, presents a five-day Jazz Camp with sessions for middle- and high-school musicians, weekdays June 7-13, 2017, in the band room at Carson Middle School, 1140 W. King St., in Carson City. Beginning and advanced sessions are open to students from Carson City and surrounding areas in northern Nevada and California.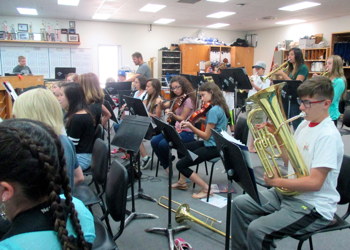 The introductory Jazz Explorers Camp, from 9:00 to 10:15 a.m. each day, is for middle-school students who want a sample of what playing jazz music is all about. It includes learning the blues scale, improvisation skills, and swing and rock styles. The registration fee includes music, instruction, and snacks.
The Jazz Ensemble Camp, from 10:30 a.m. to 12:00 p.m. each day, is for experienced middle-school and high-school musicians, including graduated seniors. Students will prepare songs in various jazz styles, learn solos, and perform in a public concert. Registration fee includes music, instruction, snacks, and a performance with the Mile High Jazz Band on Tuesday, June 13, at 7:00 p.m. at the McFadden Plaza stage in Carson City.
Organizer-director is Nick Jacques, band director at Carson Middle School, with guest instructors from the Mile High Jazz Band. Advance registration is required. Students can register online at www.cmsbands.org. ; Special guest instructors include UNR Professor Dr. Andrew Heglund and UNR senior Brandon Dodge, who will demonstrate mallet percussion and performance, and members of the Mile High Jazz Band.
Students may register for one or both sessions. The fee for Jazz Explorers is $25 for the week; for Jazz Ensemble is $40; and for both is $55. Payment by cash or check payable to "MHJB" is due the first day of camp. Some scholarships will be available. For more information, contact Nick Jacques at 775-283-2867 or njacques@carson.k12.nv.us.
Mile High Summer Jazz Camp is supported in part by a grant from the Nevada Arts Council and the National Endowment for the Arts.
Photo: Middle- and high-school musicians at Mile High Jazz Camp last summer, with Jon Brill, guest instructor.
Wild Horse Children's Theater is guided by these key principles: casting all who audition; setting and achieving the highest artistic standards; embracing diversity in our performers, audiences, and staff; and providing a positive, family-friendly, nurturing community. Through the auditions process, we welcome children from all social and economic backgrounds. While we're dedicated to training each child in the crafts, and skills required for the theatre, paramount importance is placed on the development of each child's self esteem, and feeling of belonging at this theatre.

No previous training or experience is required to audition for a part in our productions. We also have a technical theater apprentice program for young people who would rather work back-stage in our productions.

As a non-profit organization, WHCT is self-supporting. Like many nonprofit theater companies, we are not able to cover all of our production expenses with ticket sales and membership fees. Our minimal tuition fee allows us to produce the high quality productions that WHCT is known for and to provide our young actors the opportunity to work with outstanding theater professionals.

Fall 2017 – Honk, Jr.

This delightful adaptation of the beloved tale of the Ugly Ducking and the award-winning musical is a heartwarming celebration of what makes us special. Adapted for young performers, and with a score by George Stiles and Anthony Drewe (Mary Poppins), Honk! JR. is a heartwarming celebration of being different that is sure to delight audiences of all ages with its sparkling wit, unique charm and memorable score. Witty and hilarious, but also deeply moving, Honk! JR. will treat your audiences to equal amounts of laughter and tears.

Spring 2018 ; Madagascar – A Musical Adventure Jr.

Take a journey out of the zoo and onto the stage with your favorite crack-a-lackin' friends from the blockbuster DreamWorks film. Join Alex the Lion, Marty the Zebra, Melman the Giraffe, Gloria the hip hip Hippo and, of course, those hilarious, plotting penguins as they bound onto your stage in the musical adventure of a lifetime. Based on the smash DreamWorks animated motion picture, Madagascar – A Musical Adventure JR. follows all of your favorite crack-a-lackin' friends as they escape from their home in New York's Central Park Zoo and find themselves on an unexpected journey to the madcap world of King Julien's Madagascar.

Summer 2018: Junie B. Jones, Jr. The Musical (Pending Release)

Sneak a peek into the "Top-Secret Personal Beeswax Journal" of the outspoken and lovable Junie B. Jones! Created by Marcy Heisler and Zina Goldrich, the team that brought you Dear Edwina, comes Junie B. Jones, Jr. The Musical – a delightful adaptation of four of Barbara Park's best-selling books, brought to life in a genuinely comical (and not strictly-for-kids) musical developed by TheatreworksUSA. Awaken a young person's desire to read with the sassy little diva, Junie B. Jones, and her adventures in first grade.

Wild Horse Children's Theater looking for actors, singers and dancers, ages 5 to 18, for our fall production of the musical "HONK!, JR.", a modern retelling of Hans Christian Andersen's classic story of "The Ugly Duckling". Auditions will be held on Thursday, September 7th and Saturday, September 9th at the Brewery Arts Center Performance Hall. Auditions are by appointment only! You must call for an audition slot.

"Honk! Jr." tells the story of a baby duck named Ugly, whose odd appearance is mocked by his family and neighbors. Separated from the farm and pursued by a hungry cat, Ugly must find his way home. Along his rollicking and harrowing journey, he encounters many interesting characters and finds his true beauty and glorious destiny, as he also finds love and acceptance.

JUNIOR THEATER FESTIVAL: Actors from this production will be selected to be part of our elite JUNIOR THEATER FESTIVAL PERFORMANCE TROUPE to attend the Junior Theater Festival West in Sacramento, CA in February 2018 and will perform a 15-minute selection for adjudication from "Honk, Jr". and participate in workshops with Broadway professionals.

AUDITION DATES:

Thursday, September 7th, 4-7:00 p.m.

Saturday, September 9th, 10-1:00 p.m.

CALLBACKS: Saturday, September 9th, 2:00 p.m.

PERFORMANCE DATES: Friday, Saturday, and Sunday, December 8,9,10,15,16,17

REHEARSALS:

Wednesdays and Thursdays, 4:15-6:30 p.m. starting 13th. Not every performer will be called for every rehearsal, however you must list any conflict dates. We understand you have a life outside the theater, so please list your conflicts so there are no surprises during rehearsals. We are assuming you are available for all scheduled rehearsals unless listed as a conflict on the audition form. Tech weeks are the weeks of November 27th and December 4th and everyone must be available for tech weeks.

To schedule an audition for Honk, Jr. you must call 775-440-1170 or email 
pat@wildhorsetheater.com
 (or 
pjosten@aol.com
) to reserve an audition slot. Auditions and callbacks are at the Brewery Arts Center Performance Hall, King Street, in Carson City.
Art News from around the USA
Art News from around the World