2018 Jazz & Beyond Carson City Music Festival
Jazz & Beyond – Carson City Music and Art Festival
August 3-19, 2018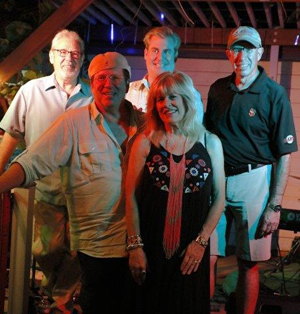 Mile High Jazz Band Association and Carson City present the 15th Annual Jazz & Beyond Music & Art Festival. It features 17 days of Music, Art, and Film at multiple venues in Carson City, from August 3 through 19, 2018."Jazz & Beyond is a homegrown event celebrating the talent of our region and relying on many local music fans who donate their time and effort," said planning committee co-chair David Bugli, President of the Mile High Jazz Band Assoc. "Sponsors and volunteers help us make the event one of the best in the area, and keep performances admission free."

The festival opens on Friday, August 3, at the historic Bliss Mansion, northeast corner Mountain and Robinson Streets. An art show and sale on the porch at 4:00 p.m. features artists from the Nevada Artists Association. Music begins at 4:30 p.m. with the Rocky Tatarelli Band, followed at 6:30 p.m. by Cherie and John Shipley with the Take This band.

Two special events will be a talk and performance on World Percussion with Chance Utter assisted by Andy Heglund, The Batamba Collective, and members of the UNR World Percussion Ensemble on Thursday, August 9, at the Brewery Arts Center Performance Hall, and a talk and performance on Virginia City's Jazz Era by John Shipley and friends on Thursday, August 16, at the Nevada State Museum.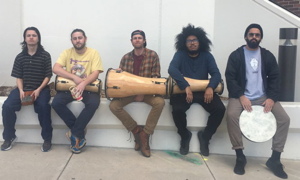 The third annual "A Day at the Silver Saddle Ranch," 2648 Carson River Road on the east side of Prison Hill, will be on Sunday, August 12, beginning at 2:00 p.m. Bluegrass and Western music, live animals, and food trucks will be featured. Musicians are Chris Bayer, Dale Poune, the Sierra Sweethearts, and more.
Free concerts also will be held at the Capital Amphitheater, Nevada State Railroad Museum, Carson Mall, Comma Coffee Courtyard, Bob McFadden Plaza, Brewery Arts Center, and other Carson City venues. Favorite and new performing groups include The Red Tango, Batamba Collective, Reno Jazz Orchestra, Mile High Jazz Band, and many more.
A full schedule of events will be available on the website JazzCarsonCity.com. For sponsor and volunteer opportunities, call 775-883-4154,
Photo on left: Cherie and John Shipley with the Take This band will open the Jazz & Beyond – Carson City Music & Art Festival at the Bliss mansion on August 3.
Photo on right: Batamba Collective (World Percussion Ensemble) will perform at the Brewery Arts Center Performance Hall on August 9.